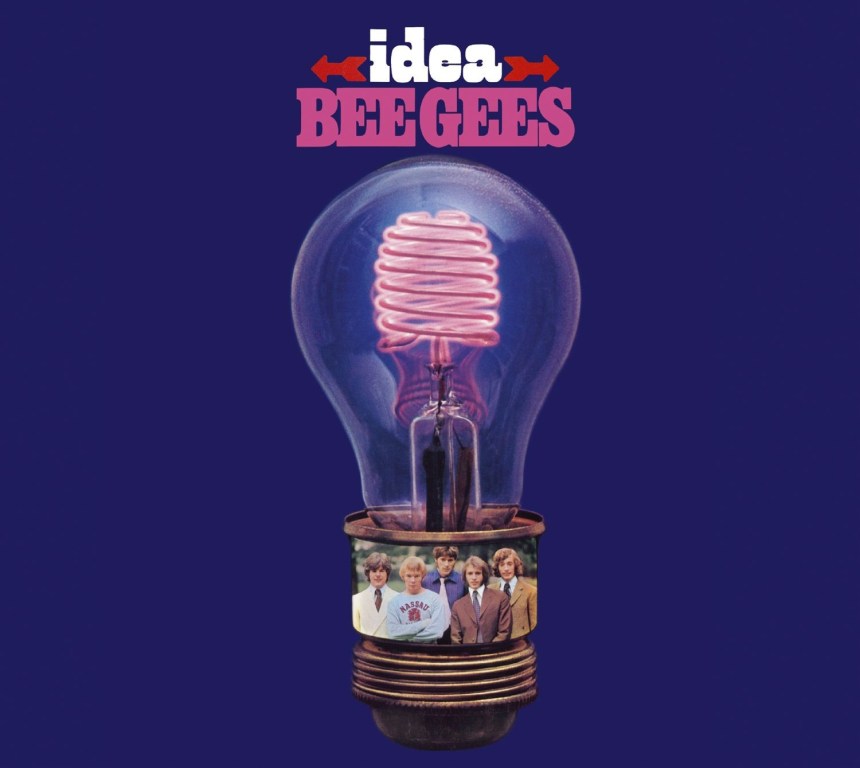 Lançado
September 1968
Gravado
IBC Studios, 8 January – 12 July 1968 (except "Swan Song", 13 December 1967)
Genêro
Rock, psychedelic rock,psychedelic pop, baroque pop,ballad, acoustic rock
Duração
36:11 (Stereo LP)
35:22 (Mono LP)
36:06 (CD issue)
107:06 (2006 CD reissue)
(CD 1 71:42/CD 2 35:24)
| | | | | | |
| --- | --- | --- | --- | --- | --- |
| | Nome da musica | Escritor | Vocal | Duração | Gravado na IBC Studios em Londres |
| A1 | Let There Be Love | Barry, Robin, Maurice Gibb | Lead vocal Barry Gibb, Robin Gibb (Maurice Gibb) | 3:32 | June 1968 |
| A2 | Kitty Can | Barry, Robin, Maurice Gibb | Lead vocal Maurice Gibb | 2:39 | June 1968 |
| A3 | In The Summer Of His Years | Barry, Robin, Maurice Gibb | Lead vocal Robin Gibb | 3:10 | February 1968 |
| A4 | Indian Gin And Whisky Dry | Barry, Robin, Maurice Gibb | Lead vocal Robin Gibb | 2:01 | June 13 1968 |
| A5 | Down To Earth | Barry, Robin, Maurice Gibb | Lead vocal Robin Gibb (Maurice Gibb) | 2:32 | January 8,9 1968 |
| A6 | Such A Shame | Vince Melouney | Lead Vocal Vince (Maurice Gibb) | 2:28 | June 14 1968 |
| | I've Gotta Get A Message To You | Barry, Robin, Maurice Gibb | Lead vocal Robin Gibb, Barry Gibb | 2:56 | July 12 1968 |
| B1 | Idea | Barry, Robin, Maurice Gibb | Lead vocal Robin Gibb, Barry Gibb (Maurice Gibb) | 2:51 | June 1968 |
| B2 | When The Swallows Fly | Barry, Robin, Maurice Gibb | Lead vocal Barry Gibb | 2:32 | June 18 1968 |
| B3 | I Have Decided To Join The Airforce | Barry, Robin, Maurice Gibb | Lead vocal Robin Gibb (Barry and Maurice Gibb) | 2:11 | February 1968 |
| B4 | I Started A Joke | Barry, Robin, Maurice Gibb | Lead vocal Robin Gibb | 3:08 | June 25 1968 |
| B5 | Kilburn Towers | Barry, Robin, Maurice Gibb | Lead vocal Barry Gibb | 2:19 | June 14 1968 |
| B6 | Swan Song | Barry, Robin, Maurice Gibb | Lead vocal Barry Gibb | 2:58 | December, 13 1967 |
Álbuns Vendidos
Idea
(1968)
Germany – 350 000
UK – 300 000
USA – 450 000
1 400 000
Informações sobre o álbum:
In the USA, South Africa and Canada the LP had "I've gotta…" instead of "Such a shame"
The CD issue has both songs.
In South Africa the LP didn't feature the song "Idea"
In Japan the LP had 14 tracks, with Jumbo and both Such A Shame and I've Gotta Get A Message To You
In Germany it was also issued under the title All over The World. It didn't feature the song Idea (and included both Such a shame and I've gotta get…).The song "I've Gotta Get a Message to You" did not appear in the UK edition and was only released as a single. In the US, the song replaced "Such a Shame" in the LP.
Studio Albuns 2006:
The expanded and remastered Reprise/Rhino issue (2006/2007) has stereo and mono versions of all 13 songs and includes a bonus disc with these tracks:
| | |
| --- | --- |
| Chocolate Symphony | [B,R,M] |
| I've Gotta Get A Message To You (mono single) | |
| Jumbo | [B,R,M] |
| The Singer Sang His Song | [B,R,M] |
| Bridges Crossing Rivers | [B,R] |
| Idea (alternate mix) | |
| Completely Unoriginal | |
| Kitty Can (alternate mix) | |
| Come Some Christmas Eve Or Halloween | [B,R,M] |
| Let There Be Love (alternate mix) | |
| Gena's Theme | [B,R,M] |
| Another Cold And Windy Day (Coke Spot 1) | [B,R,M] |
| Sitting In The Meadow (Coke Spot 2) | [B,R,M] |
Outros Lançamentos:
| | |
| --- | --- |
| Jumbo (January 10 1968) Single. | Also released in 2006/2007 by Reprise/Rhino (bonus cd) |
| The Singer Sang His Song (January 1968) B side of Jumbo | Also released in 2006/2007 by Reprise/Rhino (bonus cd) |
Outtakes:
| | |
| --- | --- |
| Chocolate symphony (January 1968) | Released in 2006/2007 by Reprise/Rhino (bonus cd) |
| Gena's theme (January 1968) | Released in 2006/2007 by Reprise/Rhino (bonus cd) |
| The Band Will Meet Mr Justice (June 13 1968) | |
| Completely unoriginal (June 1968) | Released in 2006/2007 by Reprise/Rhino (bonus cd) |
| Maypole Mews (June 25 1968) | Released by David Garrick in 1969 |
| Bridges Crossing Rivers. | Released in 2006/2007 by Reprise/Rhino (bonus cd) |
| Come Some Christmas Eve or Halloween? | Released in 2006/2007 by Reprise/Rhino (bonus cd) |
Créditos:
| | |
| --- | --- |
| Vocals, guitar | Barry Gibb |
| Vocals | Robin Gibb |
| Vocals, bass, organ, piano, mellotron | Maurice Gibb |
| Drums | Colin Petersen |
| Guitar, vocals | Vince Melouney |
| Arrangements | Bill Shepherd |
| Production | Robert Stigwood, Barry Gibb, Robin Gibb, Maurice Gibb, John Pantry (engineer) |
| Engineer | John Pantry, Mike Claydon, Damon Lyon Shaw |
| Photography By | Wolfgang Hailemann |
| Desing By | Holger Matthies |
| | | | |
| --- | --- | --- | --- |
| Vocals | Barry* (tracks: A1, A2, B1 to B3, B5, B6), | Maurice* (tracks: A1, A2, A5, A6, B1, B3), | Robin* (tracks: A1, A3 to A5, B1, B4) |
LP – Idea
Argentina
1968
Polydor 1184 169
1977
Polydor 20355
Australia
1968
Spin SEL 932 986
Belgium
1968
Polydor 184 169
Brazil
1968
Polydor 624007
1980
RSO 2394 284
Canada
1968
Atco SD-33-253
France
1968
Polydor 658 091
1974
RSO 2394 198
Germany
1968
Polydor 184 169
1975
RSO 2394 198
Italy
1968
Polydor 184 169
Japan
1968
Polydor SMP-1414
1974
RSO MW2100
1978
RSO MWF1050
Netherlands
1968
Polydor 582 036
Norway
1968
Polydor 184 169
South Africa
1968
Polydor LPHM 84 169
Switzerland
1968
Polydor 184 169
UK
1968
Polydor 582 036 (mono)
1968
Polydor 583 036 (stereo)
Uruguay
1977
RSO 20355
USA
1968
Atco SD-33-253
LP-All Over The World
| | | |
| --- | --- | --- |
| Germany | 1968 | Polydor H-881/5 |
Reel to reel
CD
Standard
Polydor 833 660-2
Japan
1992
Polydor POCP2227
2004
Polydor/Universal UICY-3806
"Idea expanded and remastered" (2 CDs)
2007
Reprise/Rhino
Singles
I've gotta get a message to you / Kitty can
1968
Argentina
Polydor 25224
1968
Australia
Spin EK-2482
1968
Canada
Atco 45-6603
1968
France
Polydor 421 401
1968
Germany
Polydor 59 216
1968
Japan
Polydor DP-1590
1968
South Africa
Polydor PD 9406
1968
Spain
Polydor 60 032
1968
Switzerland
Polydor 59 216
1968
Turkey
Polydor 59 192
1968
UK
Polydor 56273
1968
USA
Atco 45-6603
1968
Yugoslavia
RTB S53526
I started a joke / Kilburn towers
1968
Australia
Spin EK-2725
1969
Brazil
Polydor 126007
1968
Canada
Atco 45-6639
1969
France
Polydor 59 253
1968
Germany
Polydor 59 253
1968
Greece
Polydor 274
1968
Italy
Polydor 59 253
1968
Japan
Polydor DP-1620
1968
Norway
Polydor 59 253
1968
Spain
Polydor 60 045
1968
Switzerland
Polydor 59 253
1968
USA
Atco 45-6639
I started a joke / Swan song
1969
France
Polydor 421 423
I started a joke / When the swallows fly
1968
South Africa
Polydor PS1
Let there be love / Really and sincerely
1970
Belgium
Polydor 2058 003
1970
Netherlands
Polydor 2058 003
EPs
| | | | |
| --- | --- | --- | --- |
| I've gotta get a message to you / Kitty can / Jumbo / The singer sang his song | 1968 | Belgium | Polydor 60063 |
| I've gotta get a message to you / Kitty can / Harry Braff / The earnest of being George | 1968 | Portugal | Polydor 60 580 |
| I've gotta get a message to you / Kitty can / Really and sincerely / With the sun in my eyes | 1968 | Israel | Polydor EP IP 1026 |
| I've gotta get a message to you / Kitty can / I started a joke | 1968 | Malaysia | Jaguar |
| I've gotta get a message to you/ Kitty can / Down to earth / Such a shame | 1968 | Australia | Spin EX 11551 |
| I've gotta get a message to you / Kitty can/To love somebody / Close another door | 1968 | South Africa | Polydor |
| I started a joke / Kilburn towers / In the summer of his years / Such a shame | 1968 | Australia | Spin EX 11593 |
Pocket discs
I've Gotta Get a Message to You / Kitty Cat
1968
USA
Americom M-210
I started a joke / Kilburn towers
1968
USA
ATCO 6657
Americom M-267
LET THERE BE LOVE
Autores: Barry Gibb, Robin Gibb, Maurice Gibb (1968)
Gravada provavelmente em 18 ou 21 Junho 1968, IBC Studios, Londres
Lead vocal Barry Gibb, Robin Gibb
3:32 mono
LP Idea
Gravada 9 Julho 1969, IBC Studios, Londres
Lead vocal P P Arnold
stereo não lançado
KITTY CAN
Autores: Barry Gibb, Robin Gibb, Maurice Gibb (1968)
Gravada provavelmente em 18 ou 21 Junho 1968, IBC Studios, Londres
Lead vocal Maurice Gibb
2:39 mono
single I've gotta get a message to you LP Idea
2:39 stereo
LP Idea
CD Idea
INDIAN GIN AND WHISKY DRY
Autores: Barry Gibb, Robin Gibb, Maurice Gibb (1968)
Gravada em 17 Junho 1968, IBC Studios, Londres
Lead vocal Robin Gibb
2:01 mono
LP Idea
2:01 stereo
LP Idea
CD Idea
DOWN TO EARTH
Autores: Barry Gibb, Robin Gibb, Maurice Gibb (1968)
Gravada em 8 Janeiro 1968, IBC Studios, Londres
Lead vocal Robin Gibb
2:32 mono
LP Idea
2:32 stereo
LP Idea
CD Idea
IDEA
Autores: Barry Gibb, Robin Gibb, Maurice Gibb (1968)
Gravada em 20, 25 Junho 1968, IBC Studios, Londres
Lead vocal Robin Gibb, Barry Gibb
2:51 mono (partly different vocal)
LP Idea
2:51 stereo
LP Idea
CD Idea
WHEN THE SWALLOWS FLY
Autores: Barry Gibb, Robin Gibb, Maurice Gibb (1968)
Gravada em 18 Junho 1968, IBC Studios, Londres
Lead vocal Barry Gibb
2:32 mono
LP Idea
2:32 stereo
LP Idea
CD Idea
I STARTED A JOKE
Autores: Barry Gibb, Robin Gibb, Maurice Gibb (1968)
Gravada em 25 Junho 1968, IBC Studios, Londres
Lead vocal Robin Gibb
3:06 mono
single I started a joke
LP Idea
3:06 stereo
LP Idea / Best of Bee Gees
CD Idea / Best of Bee Gees / Tales box
KILBURN TOWERS
Autores: Barry Gibb, Robin Gibb, Maurice Gibb (1968)
Gravada em 14 Junho 1968, IBC Studios, Londres
Lead vocal Barry Gibb
2:19 mono
single I started a joke
LP Idea
2:19 stereo
LP Idea
CD Idea
IN THE SUMMER OF HIS YEARS
Autores: Barry Gibb, Robin Gibb, Maurice Gibb (1968)
Gravada em 14, 21 Fevereiro 1968, IBC Studios, Londres
Lead vocal Robin Gibb
3:10 mono
LP Idea
3:10 stereo
LP Idea
CD Idea
I'VE GOTTA GET A MESSAGE TO YOU
Autores: Barry Gibb, Robin Gibb, Maurice Gibb (1968)
Gravada em 12 Julho 1968, IBC Studios, Londres
Lead vocal Robin Gibb, Barry Gibb
2:59 (3:01) mono (fast)
single I've gotta get a message to you
LP Best of Bee Gees (Polydor)
2:55 (2:50) stereo (slow)
LP Idea (Atco) / Best of Bee Gees (Atco)
CD Idea / Best of Bee Gees
3:05 stereo
CD Tales box
2:50 stereo
CD The Record
I'VE DECIDED TO JOIN THE AIR FORCE
Autores: Barry Gibb, Robin Gibb, Maurice Gibb (1968)
Gravada em 15, 21 Fevereiro 1968, IBC Studios, Londres
Lead vocal Robin Gibb
2:11 mono
LP Idea
2:11 stereo
LP Idea
CD Idea
SWAN SONG
Autores: Barry Gibb, Robin Gibb, Maurice Gibb (1967)
Gravada em 13 December 1967, IBC Studios, Londres
mono 2:55, lead vocal Barry Gibb
Idea, 1968
stereo 2:56, lead vocal Barry Gibb
Idea, 1968
Outras: (não foram para o álbum)
CHOCOLATE SYMPHONY
Barry Gibb, Robin Gibb, Maurice Gibb (1968)
undated, 8 January 1968
mono, lead vocal Barry Gibb
unreleased
stereo (mixed in 2006) 2:42, lead vocal Barry Gibb
The Studio Albums 1967-1968, 2006
THE SINGER SANG HIS SONG
Barry Gibb, Robin Gibb, Maurice Gibb (1968)
undated 1968
mono 3:07, lead vocal Robin Gibb
B side, March 1968
stereo (mixed in 1990) 3:19, lead vocal Robin Gibb
Tales from the Brothers Gibb, 1990
I CAN LIFT A MOUNTAIN
probably Barry Gibb, Robin Gibb, Maurice Gibb (1968)
undated 1968
mono (demo), lead vocal Robin Gibb
unreleased
GENA'S THEME
Barry Gibb, Robin Gibb, Maurice Gibb (1968)
10 January, 25 June 1968
mono 3:19, instrumental
The Studio Albums 1967-1968, 2006
mono 1:30, instrumental
Eine Runde Polydor, 1968
JUMBO
Barry Gibb, Robin Gibb, Maurice Gibb (1968)
10 January 1968
mono 2:07, lead vocal Barry Gibb
A side, March 1968
stereo (mixed in 1990) 2:08, lead vocal Barry Gibb
Tales from the Brothers Gibb, 1990
BRIDGES CROSSING RIVERS
Barry Gibb, Robin Gibb, Maurice Gibb (1968)
10 January 1968
mono, lead vocal Barry Gibb, Robin Gibb
stereo (mixed in 2006) 2:07, lead vocal Barry Gibb, Robin Gibb
The Studio Albums 1967-1968, 2006
SHE IS RUSSIA
probably Barry Gibb, Robin Gibb, Maurice Gibb (1968)
15 January 1968
mono, lead vocal not recorded
unreleased
 Source: GibbSongs Brennan
Billboard and Chart:
| | | |
| --- | --- | --- |
| Título | Pais e Posição | Ano |
| World I've Gotta Get A Message To You ( BRM ) | NL # 3 ( 13 weeks ), UK # 1and US # 8 | Pickwick 24-8-1968 |
| The Singer Sang His Song – Bee GeesMassachusetts ( BRM ) | NL # 2 ( 11 weeks ), US # 57 and UK # 25 | Polydor 27-04-1968 |
| Jumbo Bee Gees I've Gotta Get A Message To You ( BRM ) | NL # 2 ( 11 weeks ) | Pickwick 27-04-1968 |
| Idea (álbum) | UK #4 / US#17 / DE#3 / AU#8 / IT#7 /FR#4 / CA#10 | |
Polydor UK 1968
CD
ATCO 1968 USA
Australian Cassete Tape (1979)
Idea US ATCO 1968 8-track