Spirits Having Flown Tour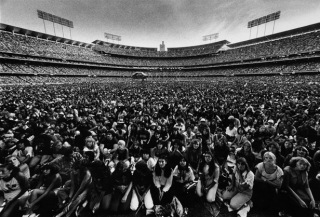 No dia 7 de julho de 1979 cerca de 56 mil fãs e 400 seguranças no Dodger Stadium na Spirits Having Flown Tour.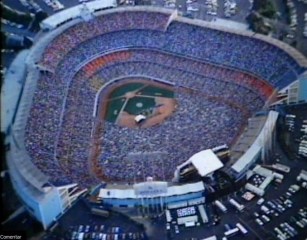 Eles alugaram um Boeing 707 com 55 assentos que tem o custo de 1 milhão de dólares com o logo da turnê personalizado.
Turnê começou dia 28 de junho de 1979 e foi até 7 de outubro de 1979 fazendo 47 shows no total, em 38 cidades.
Nessa época as concessionárias de TV lucravam cerca de 3000 dólares a cada minuto com programas relacionados a Bee Gees.
Devido a grande popularidade deles no momento, precauções foram tomadas, eles tinham "bases" em 5 cidades, ou seja, eles voariam para fazer o show e imediatamente após voltavam para a base.
Barry tomava alguns goles de chá antes dos shows.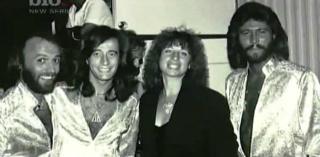 Bob Sherman (c) Bee Gees e Barbra Streisand Houston, Texas
30 de junho de 79
©Charlyn Zlotnik All Right Reserved
Estavam presentes no show em Las Vegas no Dodger Stadium artistas como Cary Grant, Barbra Streisand, Olivia Newton-John, Karen Carpenter, The Jacksons e Harry Wayne Casey da KC & The Sunshine Band e no show de Nova Iorque no Madison Square estavam presentes Al Pacino, Billy Joel, Neil Sedaka, Diana Ross, além dos membros do Kiss, Gene Simmons e Paul Stanley.
No Show em Houston no dia 30 de junho, John Travolta se junta aos Bee Gees durante a música You Should Be Dancing.
No dia 6 de agosto de 1979 a revista People faz uma matéria de 4 páginas falando sobre a turnê.
| | | |
| --- | --- | --- |
| | | |
| Checksound no Dodger Stadium | Show no Garden Stadium | Show Maple Leaf Gardens, 31 de agosto de 1979 |
Andy o irmão mais novo dos Bee Gees também participou de um show cantando You Should Be Dancing. Veja clicando aqui.
| | | |
| --- | --- | --- |
| | | |
| Livro da Turnê | Ingresso | Camiseta (eram vendidas nos concertos) |
Preço do ticket: 15$ (na mão de cambistas chegou ao preço de 750$ o par)
Banda de apoio: Sweet Inspirations
Imagens:
Madison Square Garden in New York City on September 7 1979
Oakland Coliseum on July 11 1979 in Oakland California
Playlist:
Tragedy
Edge Of The Universe
Night Fever
Love So Right
Stayin' Alive
Medley:
New York Mining Disaster
Run To Me
Too Much Heaven
Holiday
I Can't See Nobody
Lonely Days
I Started A Joke
Massachusetts
How Can You Mend A Broken Heart
Nights On Broadway
To Love Somebody
Words
Wind Of Change
How Deep Is Your Love
Jive Talkin
Encore: You Should Be Dancing
The Band:
| | |
| --- | --- |
| Alan Kendall | guitar |
| Joey Murcia | guitar |
| Harold Cowart | bass |
| Blue Weaver | keyboards |
| George Bitzer | keyboards |
| Dennis Bryon | drums |
| Joe Lala | percussion |
| The Boonero Horns: | Peter Graves, Neil Bonsanti, Bill Purse, Ken Faulk, Whit Sidener, Stan Webb (brass) |
Datas:
1979 June 28
Ft. Worth, Texas
USA
Tarrant County Convention Center
1979 June 29
Austin, Texas
USA
University of Texas | Special Events Center
1979 June 30
Houston, Texas
USA
The Summit
1979 July 2
Denver, Colorado
USA
McNichols Sports Arena
1979 July 3
Salt Lake City, Utah
USA
Salt Palace
1979 July 5
San Diego, California
USA
San Diego Sports Arena
1979 July 7
Los Angeles, California
USA
Dodgers Stadium
1979 July 9-10-11
Oakland, California
USA
Oakland Coliseum Arena
1979 July 13-14
Seattle, Washington
USA
Seattle Coliseum
1979 July 15
Vancouver, British Columbia
Canada
PNE Coliseum
1979 July 17
Portland, Oregon
USA
Coliseum
1979 July 21-22
Saint Paul, Minnesota
USA
St. Paul Civic Arena
1979 July 24
Ames, Iowa
USA
Hilton Arena
1979 July 25
Madison, Wisconsin
USA
Dane County Coliseum
1979 July 26
Indianapolis, Indiana
USA
Market Square Arena
1979 July 28
Pontiac, Michigan
USA
Pontiac Silverdome
1979 July 30-31
Chicago, Illinois
USA
Chicago Stadium
1979 August 1
1979 August 2
St. Louis, MO
Kansas City, Kansas
USA
The Checkerdome
Kemper Arena
1979 August 3
Tulsa, Oklahoma
USA
Oral Roberts Mabee Center
1979 August 4
Oklahoma City, Oklahoma
USA
The Myriad
1979 August 27
New Haven, Connecticut
USA
Veterans Memorial Coliseum
1979 August 28-29
Providence, Rhode Island
USA
Civic Center
1979 August 31
Toronto, Ontario
Canada
Maple Leaf Gardens
1979 September 1-2
Montreal, Quebec
Canada
Forum
1979 September 4
Pittsburgh, Pennsylvania
USA
Civic Arena
1979 September 7-8-9-11-12
New York, New York
USA
Madison Square Garden
1979 September 14
Buffalo, New York
USA
Buffalo War Memorial Auditorium
1979 September 15-16
Cinncinati, Ohio
USA
Cincinnati Riverfront Coliseum
1979 September 18-19
Cleveland, Ohio
USA
Rich Field Coliseum
1979 September 21
Philedelphia, Pennsylvania
USA
Field House / The Spectrum*
1979 September 22
Philadelphia

, Pennsylvania

USA
The Spectrum
1979 September
Landover, MD
USA
Capital Center
1979 September 24 -25
Washington DC
USA
Capital Center
1979 September 26
Norfolk, Virginia
USA
Norfolk Scope
1979 September 28
Birmingham, Alabama
USA
Legion Field Stadium or Birmingham Jefferson Civic Center Coliseum
1979 September 29 -30
Atlanta, Georgia
USA
The Omni
1979 October 2
Greensboro, North Carolina
USA
Greensboro Coliseum
1979 October 3
Columbia, South Carolina
USA
Carolina Coliseum
1979 October 4
Jacksonville, Florida
USA
Jacksonville Coliseum
1979 October 6
Miami, Florida
USA