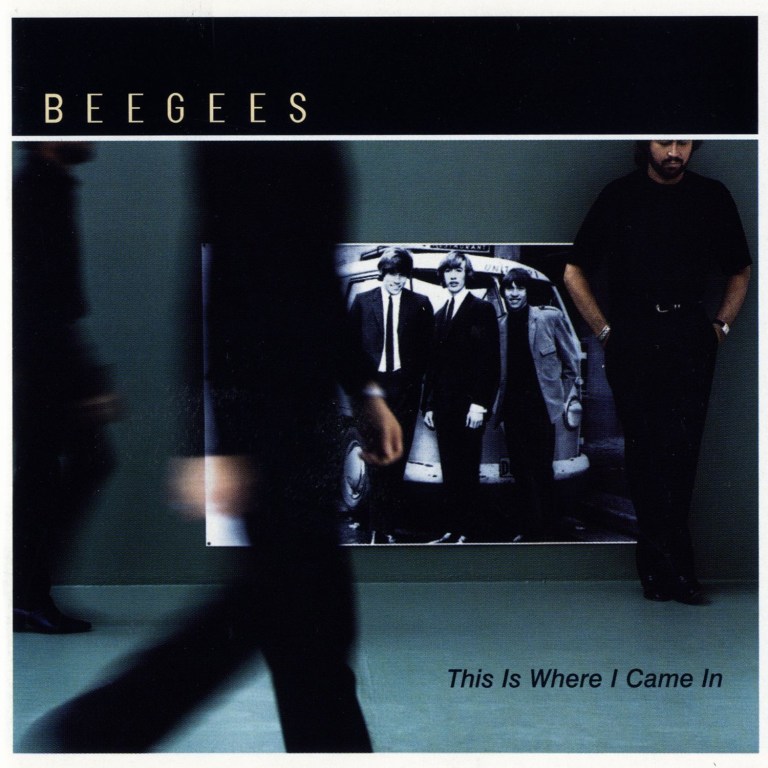 Lançamento

24 April 2001

Gravado

1999-2000 at Middle Ear Studio in Miami Beach (except "Deja Vu", "Embrace", and "Promise the Earth" at Area 21 in London

Gênero

Rock, pop, euro pop, dance-pop, ballad

Duração

52:26 (sem bônus) /




61:20 (com bônus)
| | | | | |
| --- | --- | --- | --- | --- |
| Faixa | Título | Compositor(es) | Vocal: | Duração |
| 1 | This Is Where I Came In | B., R, & M. Gibb | Lead vocals: Robin Gibb Barry Gibb | 4:56 |
| 2 | She Keeps On Coming | B., R, & M. Gibb | Lead vocals: Robin Gibb | 3:57 |
| 3 | Sacred Trust | B., R, & M. Gibb | Lead vocals: Barry Gibb | 4:53 |
| 4 | Wedding Day | B., R, & M. Gibb | Lead vocals: Barry Gibb Robin Gibb | 4:43 |
| 5 | Man In The Middle | Maurice Gibb Robin Gibb | Lead vocals: Maurice Gibb | 4:21 |
| 6 | Déjà Vu | B., R, & M. Gibb | Lead vocals: Robin Gibb | 4:19 |
| 7 | Technicolor Dreams | Barry Gibb | Lead vocals: Barry Gibb | 3:04 |
| 8 | Walking On Air | Maurice Gibb | Lead vocals: Maurice Gibb | 4:05 |
| 9 | Loose Talk Costs Lives | Barry Gibb | Lead vocals: Barry Gibb | 4:19 |
| 10 | Embrace | Robin Gibb | Lead vocals: Robin Gibb | 4:43 |
| 11 | The Extra Mile | B., R, & M. Gibb | Lead vocals: Barry Gibb Robin Gibb | 4:21 |
| 12 | Voice In The Wilderness | Barry Gibb Matt Bonelli Steve Rucker (B. Stivers, A. Kendall)  | Lead vocals: Barry Gibb | 4:37 |
The Japanese and Australian 2001 editions and the 2006 edition have two more tracks:
Recorded at Middle Ear studio in Miami Beach – except:
– Deja Vu
– Embrace
– Promise The Earth
Recorded at Area 21 in London
"Man in the Middle" is credited to Maurice and Robin Gibb on some European copies of the album. The song is credited to all three brothers by BMI.
Versão HDCD
The Enhanced CD contains self-launch software with web link, Quicktime 4.03 Flash Player, "This Is Where I Came In" music video, documentary video, and 3 exclusive shorts by David English. Comes with a 14 page boocklet.
| | | | |
| --- | --- | --- | --- |
| Distributed By – Universal Music | Manufactured By – Universal Music | Copyright (c) – Polydor Ltd. (UK) | Phonographic Copyright (p) – Polydor Ltd. (UK) |
Álbuns Vendidos
This is where I came in




(2001)

Australia – 35 000




Austria – 10 000




Canada – 50 000




France – 40 000




Germany – 200 000




New Zealand – 15 000




South Korea – 20 000




Spain – 50 000




Switzerland – 25 000




UK – 120 000




USA – 300 000

1 200 000
Créditos:
| | |
| --- | --- |
| Bob Ludwig | Mastered |
| Mark "Tuffty" Evans* | Engineer (tracks: 6, 10, 14) |
| Geraldine Dubernet | Engineer [Assistant] (tracks: 5, 7, 8) |
| Ashley Gibb | Engineer [Assistant] (tracks: 1 to 4, 7, 9, 11 to 13) |
| John Merchant | Mastered [Assistant], Recorded and Mixed (tracks: 1 to 5, 7 to 9, 11, 12), Engineer (tracks: 1 to 5, 7 to 9, 11 to 13) |
| Barry Gibb | guitar (tracks 1, 3-4, 7, 9), lead vocals (tracks 1, 3-4, 7, 9, 11-12), Producer (tracks: 1 to 4, 7, 9, 11 to 13) |
| Robin Gibb  | lead vocals (tracks 1-2, 4, 6, 10-11), producer (tracks: 1 to 4, 6, 10, 11, 13, 14) |
| Maurice Gibb  | keyboards (tracks 3-5, 8), guitar, (tracks 1-5, 8-9), lead vocals (tracks 5, 8), Producer (tracks: 1 to 5, 8, 11, 13) |
| Joe Barati  | trombone (track 11) |
| Tim Barnes  | viola |
| Matt Bonelli  | bass guitar (tracks 4, 7, 9, 12) |
| Neil Bonsanti | clarinet (track 7) |
| Jason Carder  | trumpet (track 11) |
| Hui Fang Chen  | violin (track 11) |
| David Cole  | cello (track 11) |
| Gustavo Correa | violin (track 11) |
| Dwayne Dixon | french horn (track 11) |
| Orlando Forte  | violin (track 11) |
| Ken Faulk  | trumpet (track 11) |
| Chris Glansdorp | cello (track 11) |
| Jim Hacker  | piccolo trumpet (track 11) |
| Jon Hutchinson  | trombone (track 11) |
| Alan Kendall  | guitar (tracks 1-2, 4, 7, 9, 11-12) |
| Eric Kerley  | french horn (track 11) |
| John Knicker | trombone (track 11) |
| Mel Mei Luo  | violin (track 11) |
| Robbie Mackintosh  | guitar (track 6) |
| Cheryl Naberhaus | french horn (track 11) |
| Alfredo Olivia  | violin, concert master |
| Chauncey Patterson  | viola (track 11) |
| Chocolate Perry | bass guitar (tracks 1-2, 9, 11) |
| Steve Rucker  | drums (tracks 1-2, 4, 7, 9, 11-12) |
| Ben Stivers  | keyboards (tracks 4, 7, 9), piano (track 7), organ (track 10) |
| Peter-John Vettese  | progamming, backing vocals (tracks 6, 10), producer (tracks: 6, 10, 14) |
| Mariusz Wojtowics  | violin (track 11) |
CD
Standard

2001

Polydor 549 625 2

2006

Rhino 8122 77609-2

Argentina

2001

Universal 5385944-7

Australia

2001

Polydor 7314 549 458-2

Canada

2001

Universal 314 549 626-2

Italy

2001

Polydor 549 458-2

Japan

2001

Universal UICP-1018

Korea

2001

Polygram DG 8212

Taiwan

2001

Universal 314 549 626-2

USA

2001

Universal 314 549 626-2
Cassette
| | | |
| --- | --- | --- |
| Indonesia | 2001 | Polydor 549 626-4 |
Singles
This is where I came in / I will be there / Just in case / This is where I came in (CD-rom version)

2001

UK

Polydor 587 977 2

Australia

This is where I came in / Massachusetts / To love somebody / Words / New York mining disaster / I started a joke

2001

France

Polydor 8280

This is where I came in / Just in case

2001

Germany

Polydor 587 670-2

UK
Promo
This is where I came in / Man in the middle / I've gotta get a message to you / Run to me / Too much heaven + the making of the video

UK

(Times edition)

This is where I came in / Words / Stayin alive / How deep is your love / One

France

Polydor 00309

This is where I came in / Sacred Trust / Wedding Day / Man in the middle / She keeps on coming

Australia

Polydor BGPRO 201

This is where I came in

UK

Polydor tiwici1

UK

Polydor tiwici2

Mexico

Polydor CDP 748-2

Spain

Polydor BEEGEES1

USA

Universal 203 962

This is where I came in / You should be dancing / Massachusetts

USA

Universal 203 952

Sacred trust

Spain

Polydor BEEGEES1 #1
 Billboard and Chart:
| | |
| --- | --- |
| Título | Pais e Posição |
|  This Is Where I Came In | UK# 6 US# 16 DE# 3 AU# 16 IT# 41 NZ# 4 NL# 15 CA# 10 AT# 6 |
|   | Hong Kong# 1, Switzerland# 5, Taiwan# 4, Denmark# 14, Spain# 29, France#24 |