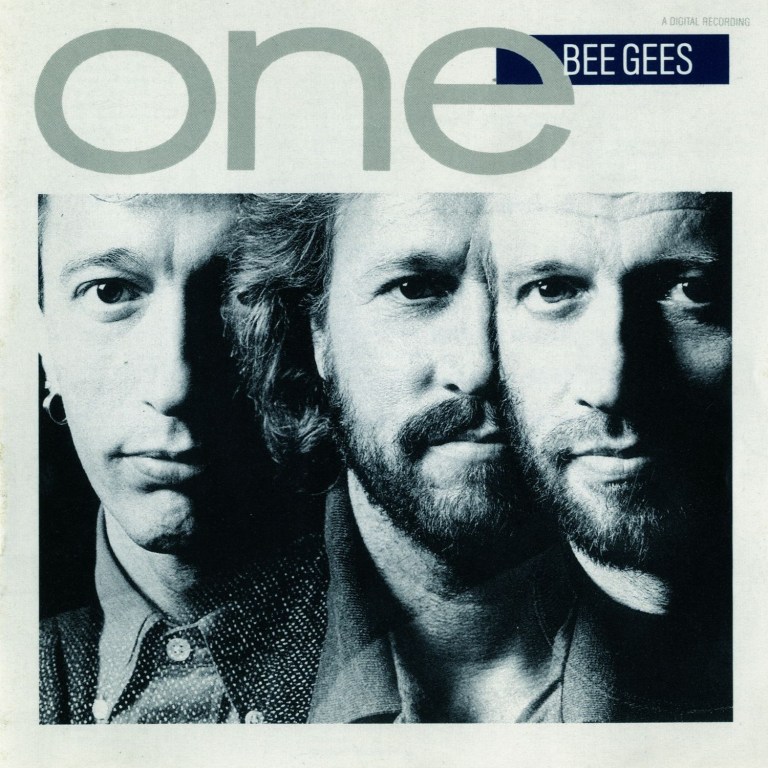 Lançamento

April 17, 1989 (UK)




April 24, 1989 (Germany)




August 1, 1989 (US)

Gravação

March-April 1988, Middle Ear, Miami Beach; November-December 1988 and February-March 1989, Mayfair Studios, London

Gênero

Rock, pop, adult contemporary

Duração

52:15
The USA edition had a different track listing when originally released. "Ordinary Lives" and "One" were switched in the running order, and the CD bonus track "Wing And A Prayer" was dropped and replaced with "You Win Again" from the ESP album. The current issue is now in the same order as non-US editions.
Recorded at Middle Ear studio in Miami Beach
Album produced by Barry Gibb, Maurice Gibb, Robin Gibb and Brian Tench except for "Wing and a Prayer", produced by Barry Gibb, Maurice Gibb and Robin Gibb.
All compositions by Barry, Robin and Maurice Gibb.
Álbuns Vendidos
One




(1989)

Australia – 35 000




France – 110 000




Germany – 350 000




Japan – 15 000




Switzerland – 30 000




UK – 45 000




USA – 250 000

1 300 000
Info Songs
| | |
| --- | --- |
| Ordinary Lives | Originally recorded under the title of "Cruel World". This had started as a demo in Maurice's garage studio "Panther House". Released as a single. |
| One | Released as a single. |
| Bodyguard | Released as a single. |
| It's My Neighborhood | Also used in the stage version of Saturday Night Fever |
| Tokyo Nights | A previous version of this song was recorded back in 1987 in Maurice's garage with Scott programming. |
| Wish You Were Here | Written a couple weeks after Andy Gibb's death, in March 1988. This song was dedicated to him. |
| Wing and a Prayer (Only CD release) | Background vocal Barry, Robin and Maurice Gibb. Keyboards programmed by Scott Glasel and Maurice Gibb record and mixed as a demo in three days by Scott and Maurice. |
Source: Wikipedia
Créditos
| | |
| --- | --- |
| Vocals | Robin Gibb |
| Vocals, Guitar | Barry Gibb |
| Vocals, Keyboards, Guitar | Maurice Gibb |
| Programming, Engineer | Scott Glasel |
| Drums | Steve Ferrone |
| Engineer | Mark Robinson (2), Scott Glasel, Brian Trench |
| Guitar | Tim Cansfield |
| Keyboards, synthesiser | Peter Vetesse* |
| Producer | Robin Gibb, Barry Gibb & Maurice Gibb |
| Bass | Nathan East |
| Producer, Engineer | Brian Tench |
| Written-By | Robin Gibb, Barry Gibb & Maurice Gibb |
LP
| | | |
| --- | --- | --- |
| Argentina | 1989 | WEA 80144 |
| Australia | 1989 | WB 7599 25887-1 |
| Belgium | 1989 | WB 7599 25887-1 |
| Brazil | 1989 | WB 6708119 |
| France | 1989 | WB 7599 25887-1 |
| Germany | 1989 | WB 7599 25887-1 |
| Italy | 1989 | WB 7599 25887-1 |
| Korea | 1989 | Oasis Records 4-25887 |
| Netherlands | 1989 | WB 7599 25887-1 |
| Switzerland | 1989 | WB 7599 25887-1 |
| UK | 1989 | WX 252 |
| USA | 1989 | WB WX 2-25887 |
| Yugoslavia | 1989 | JUGOTON LP-7-1 2022892 |
Cassette
| | | |
| --- | --- | --- |
| Standard | 1989 | WB 7599 25887-4 |
| USA | 1989 | WB WX 4-25887 |
CD
| | | |
| --- | --- | --- |
| Standard | 1989 | WB 7599 25887-2 |
| Japan | 1989 | Warner 22P2-2653 |
Singles
Ordinary lives / Wing and a prayer

7″

1989

Germany

WB 927 523-7

Portugal

WB 927 523-7

Switzerland

WB 927 523-7

UK

WB W 7523

Ordinary lives / Wing and a prayer / Ordinary lives

12″

1989

Germany

WB 759-921 175-0

UK

WB W 7523T

Cds

1989

Germany

WB 759-921-175-2

Japan

WB WPOP6275

Switzerland

WB 759-921-175-2

UK

WB W 7523 CD

One / Flesh and blood

7″

1989

Germany

WB 922 916-7

Switzerland

WB 922 916-7

UK

WB W2916

One /Flesh and blood / One

12″

1989

UK

WB W2916T

Cds

1989

Japan

Warner 09P3-6183

One / Wing and a prayer

7″

1989

Canada

WEA 922 899-7

USA

WEA 922 899-7

Tokyo nights / Will you ever let me

7″

1989

Australia

WB 922 782-7

Germany

WB 922 782-7

Tokyo nights / Will you ever let me / That's my neighbourhood

12″

1989

Germany

WB 921 345-0

Switzerland

WB 921 345-0

CDs

1989

Germany

WB 921 345-2

Bodyguard / Will you ever let me

Cass

1990

USA

WB 7-1999-7
Promo
| | | | |
| --- | --- | --- | --- |
| One | 1989 | Mexico | WB PRO 370 |
| One / One | 1989 | Spain | WB 1086 |
 Billboard and Chart:
Título

Pais e Posição

 One (álbum)

 

UK# 29 US#68 DE#4 AU#29 IT#39 NO#19 JP#63 NL#15 CA#46 AT# 23 Sweden#42 France# 16 Switzerland

# 6