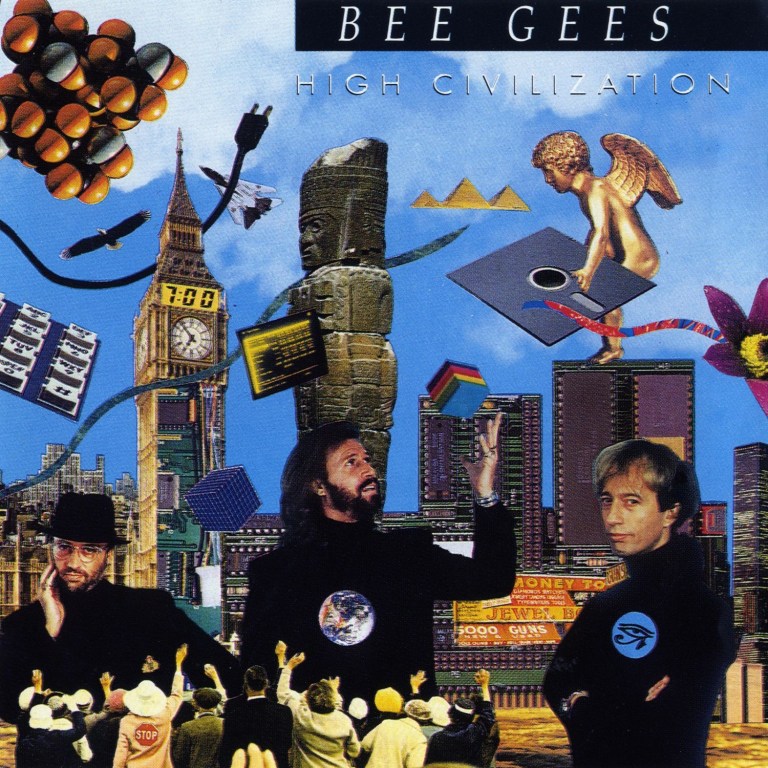 Lançamento

25 March 1991 (UK)




April 1991 (US)

Gravado

1990 at Middle Ear studio, Miami Beach, Florida

Gênero

Rock, pop, soul

Duração

60:12
"The Only Love" was written with a view to being covered. The Bee Gees offered the song to Bryan Adams, though he declined their offer.
All songs composed by Barry, Robin and Maurice Gibb.
It was their last album recorded for Warner Bros. Records, after a four-year contract
Recorded At – Middle Ear Studio
Álbuns Vendidos
High Civilization




(1991)

Austria – 40 000




Germany – 600 000




Switzerland – 60 000




UK – 60 000




USA – 50 000

1 250 000
Créditos:
| | |
| --- | --- |
| Vocals | Robin Gibb |
| Vocals, Guitar | Barry Gibb |
| Vocals, Guitar, Keyboards, Synthesiser | Maurice Gibb |
| Written-By | Barry, Robin & Maurice Gibb* |
| Producer | Barry Gibb, Maurice Gibb, Robin Gibb* |
| Photography By | Diego Uchitel |
| Percussion | Lenny Castro |
| Mixed By | Barry Gibb, Femi Jiya, Maurice Gibb, Robin Gibb |
| Mastered By | Howie Weinberg |
| Management | Gary Borman |
| Keyboards, Synthesiser, Programmed By | Tim Moore |
| Illustration | Dick Bouchard, Jeff Lancaster, Lou Beach |
| Guitar | Alan Kendall |
| Engineer [Assistant] | John Merchant |
| Engineer | Femi Jiya |
| Design, Art Direction | Jeff Lancaster |
| Bass | George (Chocolate) Perry* |
| Backing Vocals | Julia Waters, Maxine Waters |
| Phonographic Copyright (p) | Warner Bros. Records Inc., WEA International Inc. |
| Copyright (c) | Warner Bros. Records Inc., WEA International Inc. |
| Made By | Warner Music Manufacturing Europe |
| Published By | Gibb Brothers Music, Careers Music Inc. |
| Mastered At | Masterdisk |
LP
| | | |
| --- | --- | --- |
| Argentina | 1991 | WB 7599 26530-1 |
| Australia | 1991 | WB 7599 26530-1 |
| Belgium | 1991 | WB 7599 26530-1 |
| Brazil | 1991 | WB 6709247 |
| France | 1991 | WB WE 391 |
| Germany | 1991 | WB 7599 26530-1 |
| Italy | 1991 | WB 7599 26530-1 |
| Korea | 1991 | Warner WL-109 |
| Netherlands | 1991 | WB 7599 26530-1 |
| Poland |   | MUZA SX 3056 |
| Spain | 1991 | WB 7599 26530-1 |
| Switzerland | 1991 | WB 7599 26530-1 |
| UK | 1991 | WB WX 417 |
| USA | 1991 | WB WX 2-26530 |
Cassette
| | | |
| --- | --- | --- |
| Standard | 1991 | WB 7599 26530-4 |
| UK | 1991 | WB WX 417C |
CD
| | | |
| --- | --- | --- |
| Standard | 1991 | WB 7599 26530-2 |
| Japan | 1991 | Warner WPCP4230 |
Singles
Secret love / True confessions

1991

7″

Germany

WB 5439-19399-7

Italy

WB 5439-19399-7

UK

WB W0014

Secret love / True confessions/ Human sacrifice

1991

12″

UK

WB W0014-T

Germany

WB 9362-40014-0

CD

Germany

WB 9362-40014-2

Secret love / Human sacrifice

1991

CD

Japan

Warner WPOP6275

When he's gone / Massachusetts

1991

7″

UK

WB W0029

The only love / You win again

1991

7″

UK

WB W0049

Germany

WB 5439 19279-7

The only love / Massachusetts / You win again

1991

12″

Germany

WB 9362.40093-0

CD

Germany

WB 9362-40093-2

UK

WB W0049
Promo
When he's gone

1991

7″

Spain

WEA 1377

UK

Warner Bros

Cass

USA

WB 91369-4
 Billboard and Chart:
| | |
| --- | --- |
| Título | Pais e Posição |
| High Civilization (álbum) | UK# 24 DE# 2 NL# 19 AT# 4 Sweden# 50 Switzerland# 6 Hungary# 15 France# 16 |